It's no secret to people who know me that I'm an unabashed foodie. I love that entire scene of local ingredients, trendy restaurants, and endless flavor combinations beyond what you can find at your neighborhood chain. I also love talking about food and critiquing what I'm eating. Luckily for me, Cleveland has a burgeoning food scene with many excellent restaurants and up-and-coming chefs. One of these is Bistro83, a wine bar in North Ridgeville just south of Avon Commons, which opened just a few months ago. I was thrilled that a restaurant that does wine well was opening near my home and on the west side of Cleveland; so many awesome places require a special trip into the city for me so this was a refreshing change. Unfortunately, my hopes were a little too high for this fledgling new establishment.
Bistro83 is nice, clean, and has a vague Tuscan feel to it with a warm palette in the main dining room as well as on the uniforms of the wait staff. Because it was a nice evening, my girlfriend and I decided to sit on the patio which features a covered section, shielding us from the setting sun, plus a fire pit for late-night dining. It's really quite charming and a nice space for summer nights out. Yuppie new wine bars downtown traditionally have crowds primarily in their 20s and 30s but it was clear that this very suburban restaurant drew an older clientele. Middle-aged patrons seated near us were attended to much more quickly and spoken to several times by upper management while our table was approached far less. While this may have been explained on a busy evening, there were few other customers in the restaurant. It's hard to imagine that new restaurant owners would want to alienate the few younger diners who stop by, but ours was not a great first impression.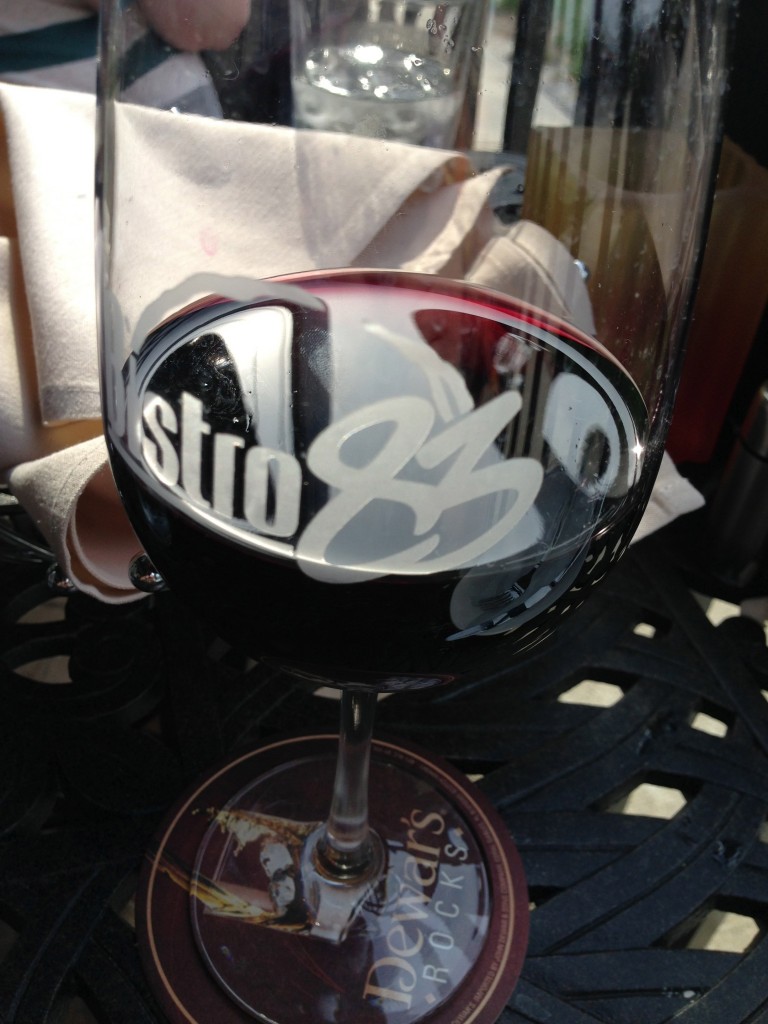 This Bistro83 menu features a large number of small plates, salads, and flatbreads and a reasonable, but not terribly inventive list of entrées. Our waitress informed us that the pretzel burger ("signature prime beef, Red Dragon cheddar, bourbon mushrooms and onions, LTO; $9) was one of her favorite dishes Bistro83 offers.
We decided to start with drinks and a few appetizers given the extensive small plates section of the menu and given that Bistro83 brands itself a wine bar, I was excited to try a wide variety of wines. As soon as the wait staff brought out the first glass, I knew something wasn't quite right. My red wine was served in a white wine glass. Turns out that no matter what sort of wine you order, white, red, rosé, it gets served in the same glass. While I'm sure this makes things easy for replacing broken glasses and keeping enough of each type clean, it communicates a lack of wine knowledge. The wine menu is quite extensive but very few of the wines are served by the glass and further, only one wine of each type (e.g., pinot noir, chardonnay), are served as such. This makes it difficult to taste and compare wines you're new to if you don't have a companion with whom to split entire bottles. Demerit number two for a place calling itself a wine bar.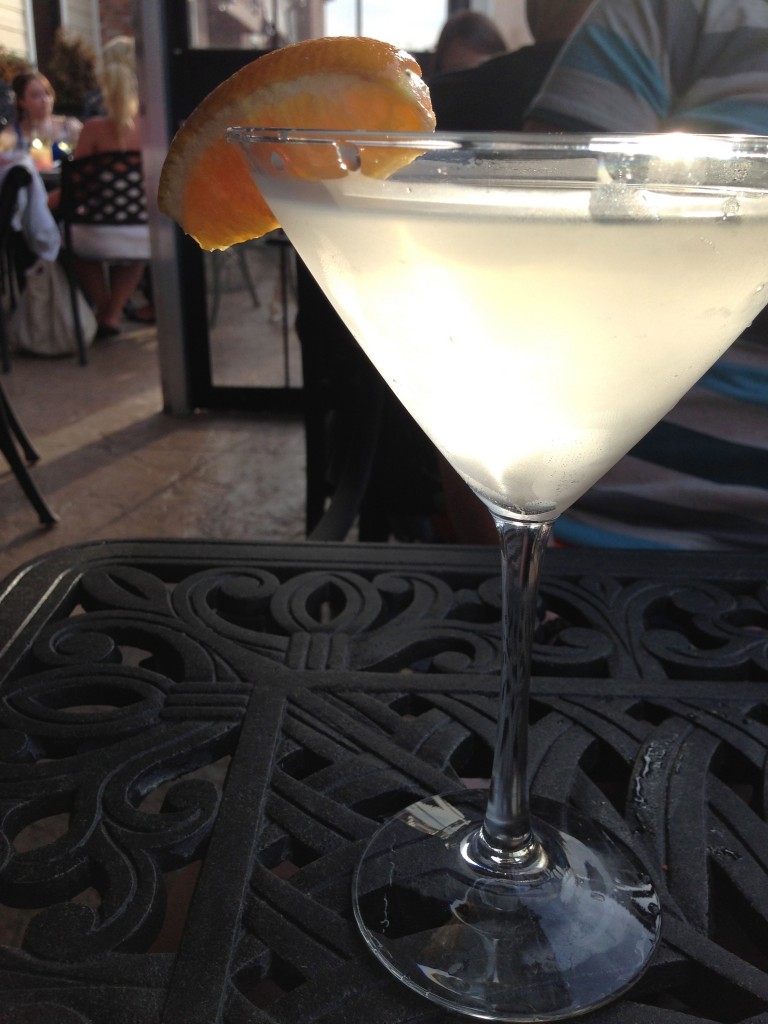 We also ordered a mojito which had good flavor but like the best chain establishments, was light on the alcohol. We've found that restaurants will often serve the first drink fairly weak and then increase the strength if a table is ordering more than one drink. That wasn't the case here; subsequent drinks were just as weak as the first. The most inventive cocktail on the menu was a lavender martini, essentially just vodka with a very slight herbal hint, and was rather disappointing as well.
Over drinks, we decided to choose a meat and cheese board, described on the menu thusly: "A selection of cured and smoked meats served with mustards, horseradish aioli, olives and warm bread, preserves, nuts, olives, honey and crackers." When I inquired what meats and cheeses were included, our waitress consulted another to get the answer. This may be simply because the restaurant is new and they're getting their feet under them, but with a small menu, keeping tabs on ingredients is  important. The board itself featured fairly common meats and cheeses, many of which stood up poorly in the heat on the patio. Harder cheeses would have been a better choice than soft gouda and goat which get melty.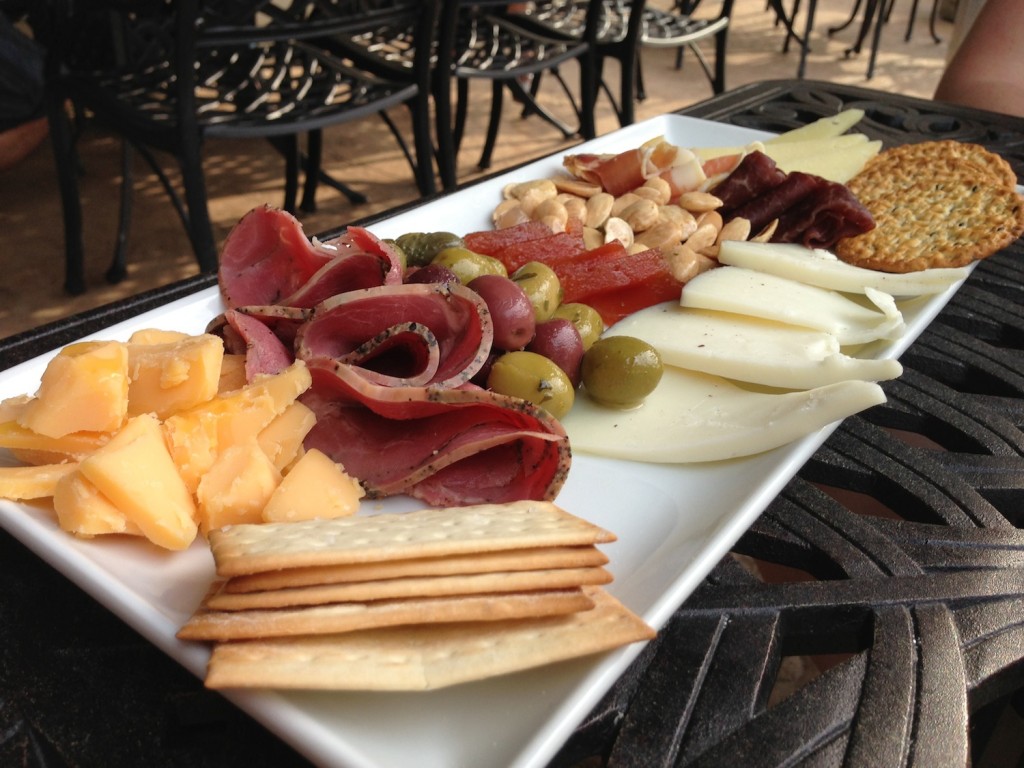 To get a full picture of the menu, we chose the salmon ("a 6-ounce salmon steak, red quinoa, dried cranberries, roasted garlic, honey-pomegranate sauce, micro coriander & roasted cauliflower; $19) and a flatbread (Ohio chicken, pesto, fresh buffalo mozzarella, sun-dried tomatoes, pancetta, basil; $15), one item each from the entrées section and their pizzas.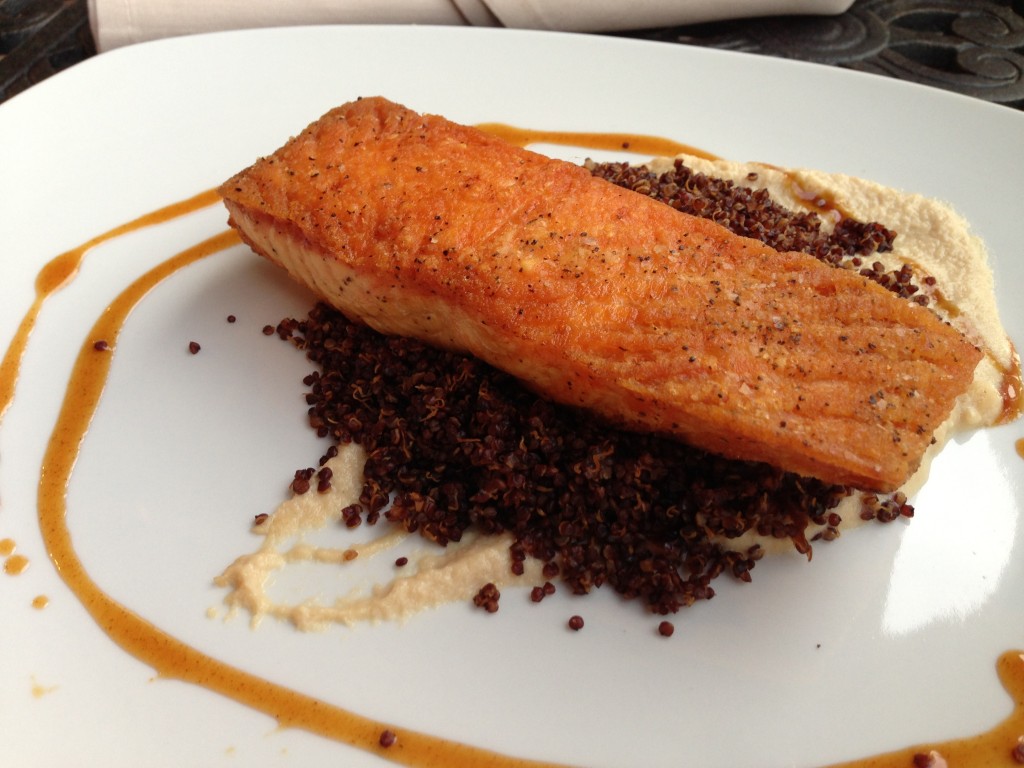 I was wooed by the menu's description of this fish, including lots of flavorful ingredients but the dish on the whole was bland and uninspired. The salmon itself was overdone with a thick, oily crust on top, and incredibly salty. The quinoa was also very dry. I'd like to have seen more color in the meal too; the red quinoa and the pureed cauliflower do the already-pink salmon no favors.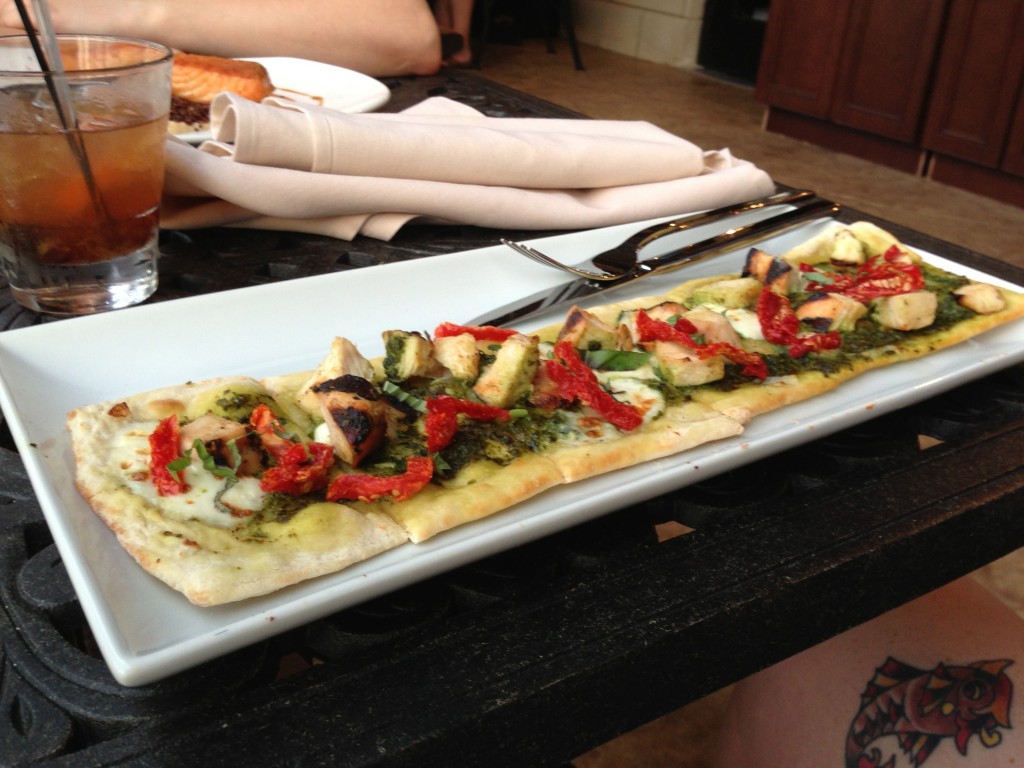 This chicken pesto flatbread pizza was nothing terribly inventive, but it also wasn't very well executed. The sun-dried tomatoes were thrown on top as an afterthought, not heated through with the rest of the toppings and there was hardly enough pesto on the bread to make the crust less dry. Fortunately, the flatbread didn't have a greasy crust. Still, at $15, this is incredibly overpriced and not worth the investment.
While some of the flaws here, particularly wait staff knowledge, may be resolved as the restaurant gets more established, the critical flavor issues are likely to continue, especially if the restaurant gets busier on weekends. Being set aside for being a younger patron too left a bad taste in my mouth and despite wanting to like Bistro83, I just couldn't find much to hang onto.
Bistro83 Wine and Martini Bar: 36033 Westminister Ave., North Ridgeville; bistro83.com, 440-353-2828. Look for $5 happy hour specials from 3 to 6 p.m. Monday–Friday.