The Pizza Compatibility Test
I'm pretty sure there have been many terrible jokes made about how you can never trust someone fully until you know what they put on your pizza. Anchovies? What's wrong with you? Just cheese? Okay, well I hope you're… oh, wait, just mozzarella? Well, you do you, but I'm never ordering a pizza with you again.
I fall solidly in the "what's wrong with you?" camp. Sure, I like traditional pizza every now and then because sometimes you need a greasy, cheesy, pepperoni pizza that will make you feel your arteries clog more and more with every bite. However, the pizza I really love barely resembles anything that comes to mind when someone asks if you want pizza for dinner. So when Jacquelynn visited my hometown back at the start of our relationship and we made plans to go to Joe Bologna's—Lexington, KY's most famous pizza joint—with my mom and her then-boyfriend, I was incredibly curious to see how it would go.
The thing about Joe B's is that it's not exactly a trendy place. It's been there forever and the décor hasn't been touched since I was at least five years old and going there for soccer parties. The most interesting part about the restaurant is that it's in an old church and they left the stained glass window in when they converted it into a pizza joint. Even with that detail, it still has a hole in the wall vibe. So if you're looking for a "weird" pizza, it's kind of the last place you'd expect to be able to get it, but sure enough, their menu features quite a few non-traditional options.
Now, my mom isn't the most adventurous eater and I'll eat just about anything. So when we usually went to Joe B's, we'd end up settling for a pretty standard pizza where the most adventurous topping might be jalapeños on my half. With the addition of my mom's boyfriend and Jacquelynn, we got to shake things up a bit, but did I dare test Jacquelynn to see if she'd be interested in the same pizza as me? Did I dare hope I might find someone who'd forego tomato sauce, opting instead for a deliciously creamy garlic sauce with nothing but chicken and broccoli to go with it? You're damn right I did.
Guess what? She had been afraid to mention to me that was the pizza that had caught her eye when we first sat down.
My mother was the first to comment about the pizza being "weird", but also the first to voice how great it was that I found someone willing to eat it with me. I'd like to say she continued talking to Jacquelynn, telling her embarrassing stories of the times I would come to Joe B's as a kid or whatever else she could dredge up from memory, but I honestly couldn't tell you what she was saying—I was too busy eating. Hey, maybe Jacquelynn was too and that's why the only thing we talk about from that day is the amazing pizza we would eventually try to recreate.
Our desire to recreate the pizza was born largely from the fact that we couldn't find anything like it up here. For such a simple combo (garlic cream sauce + chicken + broccoli), you'd think someone near Cleveland would have something similar, but no. So, as we do with most things, we endeavored to make it ourselves.
The first attempts were as basic as the pizza we first had and they were delicious enough for us almost not to care that we were hundreds of miles away from the opportunity to see how close to the original our pizza was. The thing is, we wanted to find a way to make what would become our go-to pizza even better. Rosemary entered the picture, various cheeses were tried, dashes of chili powder were added to the sauce, and several attempts later, we were left with the most delicious pizza I have ever tasted in my life. And yes, I am including each and every pizza we ate during our recent trip to Italy.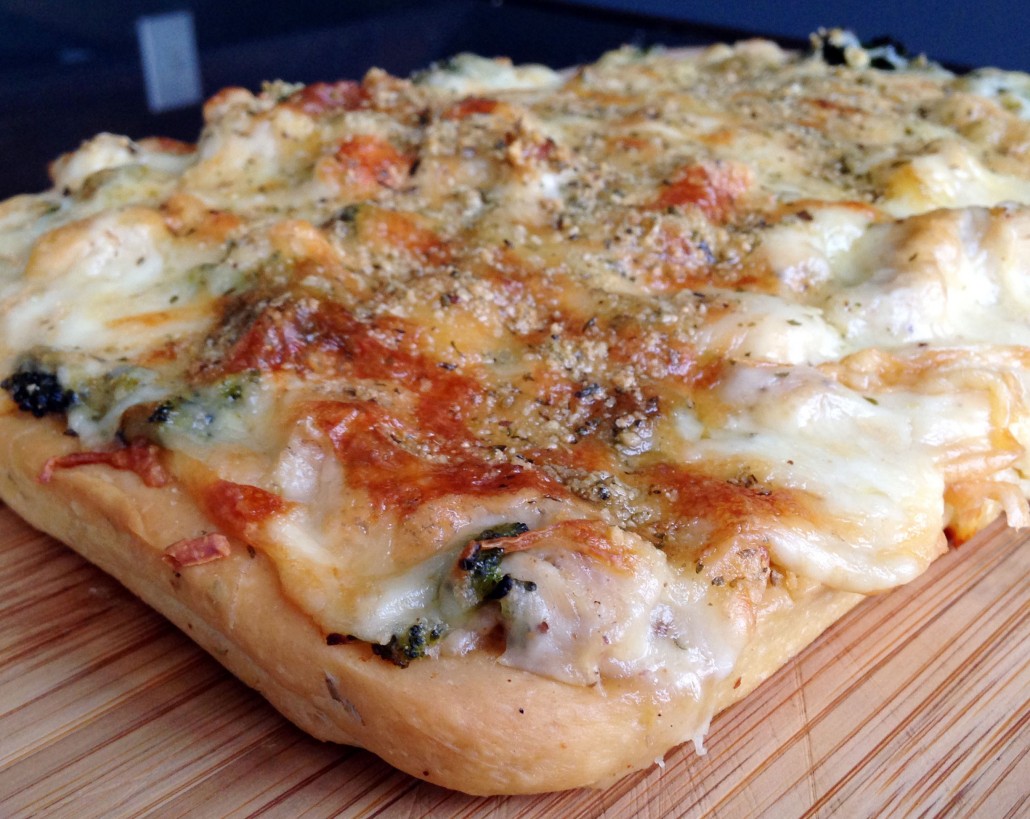 Sara and Jacquelynn's Chicken and Broccoli Pizza with Garlic Butter Sauce
Inspired by Joe Bologna's Italian Pizzeria & Restaurant in Lexington, Kentucky
makes enough sauce and toppings for a 12″ pizza plus an additional crust to freeze for later
Ingredients
For the crust:
2 ¾ cups flour
1 teaspoon salt
1 package yeast
3 tablespoons olive oil
1 cup warm water
1 tablespoon dried rosemary (optional)
For the sauce:
1 tablespoon butter
½ tablespoon olive oil
2 tablespoons white wine
2 cloves of garlic, Microplaned
¼ cup chicken broth
¼ cup milk or half-and-half
½ teaspoon onion powder
½ tablespoon fresh rosemary, minced
2 teaspoons cornstarch
Generous pinch of salt
Generous pinch of black pepper
Small pinch of chipotle chili powder
For the toppings:
½ tablespoon olive oil
1 chicken breast, diced small
1 cup broccoli florets, diced small
Salt
Black pepper
1 ½ cup Trader Joe's Quattro Formaggio Shredded Cheese Blend
Mama Francesca's Parmesan, Basil, and Oregano
Directions
Combine warm water and yeast and let sit for five minutes. Mix olive oil, salt, rosemary, and yeast mixture with one cup of flour. Add remaining flour until dough leaves the side of the bowl, a total of 2¾ cups. Knead with dough hook in a standing mixer on speed 2 for 10 minutes or until smooth. Let rise 2 hours or until double.
Punch down, divide the dough in half, and let rest until you can roll or pat into a pan shape. I use a pizza stone, but you can also bake your pizza on a baking sheet. Just make sure to oil the bottom of the sheet to help crisp the crust. You only need one half of the dough for this recipe; you can refrigerate or freeze the other half for later. Pre-bake at 375℉ for 20 minutes.
While the crust is pre-baking, make the sauce. Begin by melting the butter, along with the olive oil on medium heat. Once melted, toss in the minced garlic and fresh rosemary. Reduce heat to low and cook until fragrant and garlic is golden, about 5 minutes. Raise the heat up to medium-high. Mix the broth, wine, milk, and cornstarch together in a liquid measuring cup. Add to the pot. Keep stirring until it comes to a boil. Toss in the salt, pepper, onion powder, and chipotle chili powder, and continue stirring. The sauce will thicken quickly, so continue to stir. Once the sauce is thickened, remove from the burner, and set aside.
Once your sauce is ready, prepare your toppings. Coat raw chicken generously with salt and pepper. Heat olive oil in a pan over medium-high heat. Add chicken and broccoli and cook until cooked through and broccoli is crisp-tender, 5–7 minutes.
Add sauce, chicken and broccoli, shredded cheese blend, and generously sprinkle with grated parmesan and return to the same temperature oven. Continue to bake for 20 or when cheese is melted. May broil for last 1 minute to brown the cheese.
---
Sara and I have spent the last three years getting to know each other and falling in love over food. In this series, we share some of those formative moments in our relationship with you and the recipes that still mean a lot to us. She's sharing our story, I'm cooking—and writing—about the food. As an additional note, Sara also blogs general musings and about her Halvarian Ruin series at http://saragaines.com.