Sara and I have spent the last three years getting to know each other and falling in love over food. In this new series, we're going to share some of those formative moments in our relationship with you and the recipes that still mean a lot to us. She's sharing our story, I'm cooking—and writing—about the food. As an additional note, Sara also blogs general musings and about her forthcoming novel at http://saragaines.com.
---
My first date with Jacquelynn was filled with the same amount of anxiety all first dates are. Actually, no, that's a lie. There were a lot of reasons why it was different than any other first date either of us had been on. For starters, it was technically her first "first date". Like many people, she and her previous partners had been friends and then one day they realized there was more to it then that and all of a sudden, relationship!
For me, well, let's just say I was no stranger to first dates. I was, however, not so used to caring as much as I did on that first date with her. As annoyingly clichéd as it might be, I knew there was something different about her – I had already talked to her enough to know this would be different from a lot of the first dates I had gone on. So when I was getting ready to meet her and take her out, I probably checked the grimy mirror in my college house a thousand times while I waited until it was time for me to leave. You know, just in case I messed up my make up or my clothes suddenly changed in the two seconds that had passed since the last time I looked. Still, I hid my nerves better than she did.
When it was finally time for me to pick her up, we realized that our whole plan for a date night was centered around a movie we had mentioned wanting to see (to be honest, when we first discussed plans, it wasn't really established that it was going to be a date). So we were sitting there and she starts listing off restaurants within walking distance of the theatre. An Italian place that would certainly pass for a good traditional date, a chain restaurant she mentioned I think mostly to test whether or not I was worthy of taking to dinner, and then hesitantly, Jacquelynn mentioned a place she absolutely loved, B Spot.
Now, for those of you who don't live in the Cleveland area and who don't know the name Michael Symon, just know I was in the exact same boat as you at this point. Jacquelynn, on the other hand, knows her food (and has spent the last three years opening my eyes) and knows that if you want a good burger, B Spot is the place to go around here. Her only problem was that a burger isn't exactly what you're told to picture when you're dreaming of an amazing first date. So even though her eyes lit up as she started telling me about the specially blended meat that goes into each burger and the fact that they fry their rosemary shoestring fries in delicious, delicious duck fat, I could practically see her palms start sweating over having mentioned something so "low-brow" as a burger for a first date.
That's when I reminded her we were seeing a comic book movie.
With her fears eased and my stomach growling (I hoped not too loudly), we made the final decision that we would completely abandon the thought of a "fancy" first date. As Jacquelynn promised, the burger was amazing. Cooked to perfection and greasy enough to require about twenty napkins, it was an easy thing to rave over during our conversation and in the back of my mind, I was hoping even more that our date went well because I immediately wanted another (both a burger and a date, but I knew I wanted the second.. and third… and fourth date long before I left my house that day).
Fast-forward many months and Jacquelynn and I were living together, suddenly having to feed ourselves every night. As we tried to figure out what kinds of meals we would make, both of us immediately remembered that first date and how much we enjoyed something so simple as a burger. So with the idea of making something with some nice emotions attached to it, one of the first things we tried to make was a burger as good as the ones we'd tasted at B Spot. Long story short, trying to make a burger like that when all you have is whatever ground beef you can find at the store is pretty much impossible. Sure, the beef burgers we had weren't bad, but they sure as hell weren't what we wanted. So, we decided to get a little more adventurous.
Abandoning beef altogether, Jacquelynn began experimenting with different ground meats. We've had turkey, bison, elk, and whatever else we could find, but the one burger that really stood out to us was the lamb burger detailed in Jacquelynn's recipe. These lamb burgers have become our go-to burger when we're looking for a date night in or even when we just want something comfortable and delicious. Wrapped in crispy prosciutto, topped with fresh mozzarella and basil with a drizzle of balsamic to finish it off, these burgers can't even compete with anything else we've made at home.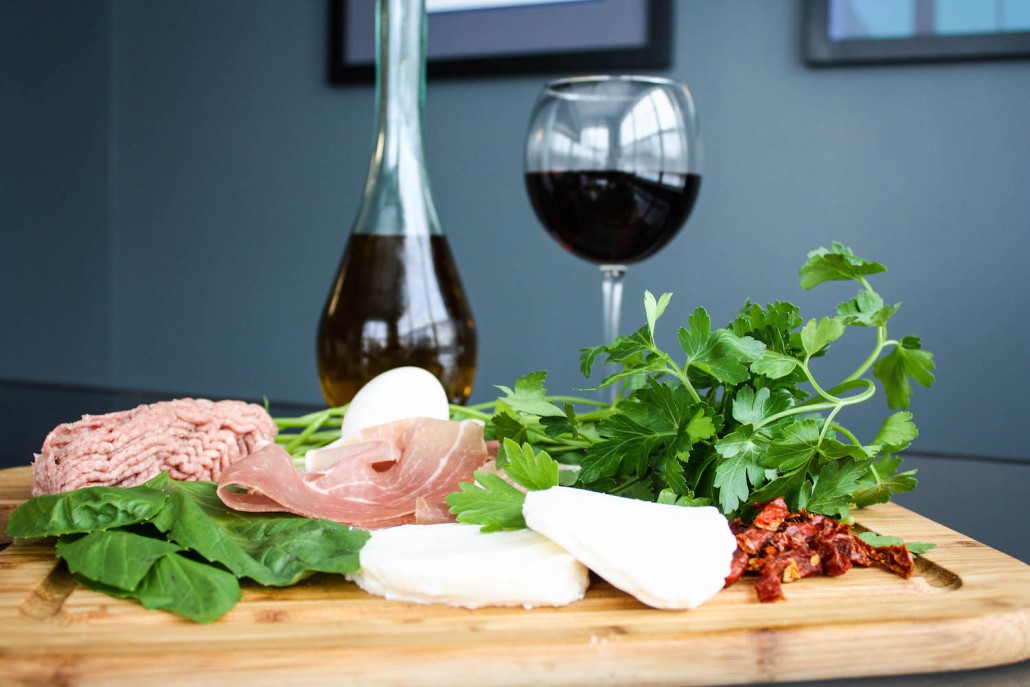 Prosciutto-Wrapped Lamb Burgers with Basil and Fresh Mozzarella
makes 2 generously-sized burgers
Ingredients
2/3 pound ground lamb
1/3 cup plain bread crumbs
1/4 cup chopped, flat-leaf parsley
1 egg yolk, lightly beaten
1 tablespoon milk
1/3 cup grated Parmesan cheese
1/4 cup chopped sun-dried tomatoes
1/2 teaspoon salt
1/2 teaspoon freshly-ground black pepper
4 slices prosciutto
1/4 cup white wine
1 tablespoon butter, softened
fresh basil leaves
fresh mozzarella, sliced 1/4 inch thick
extra virgin olive oil
balsamic vinegar
hamburger buns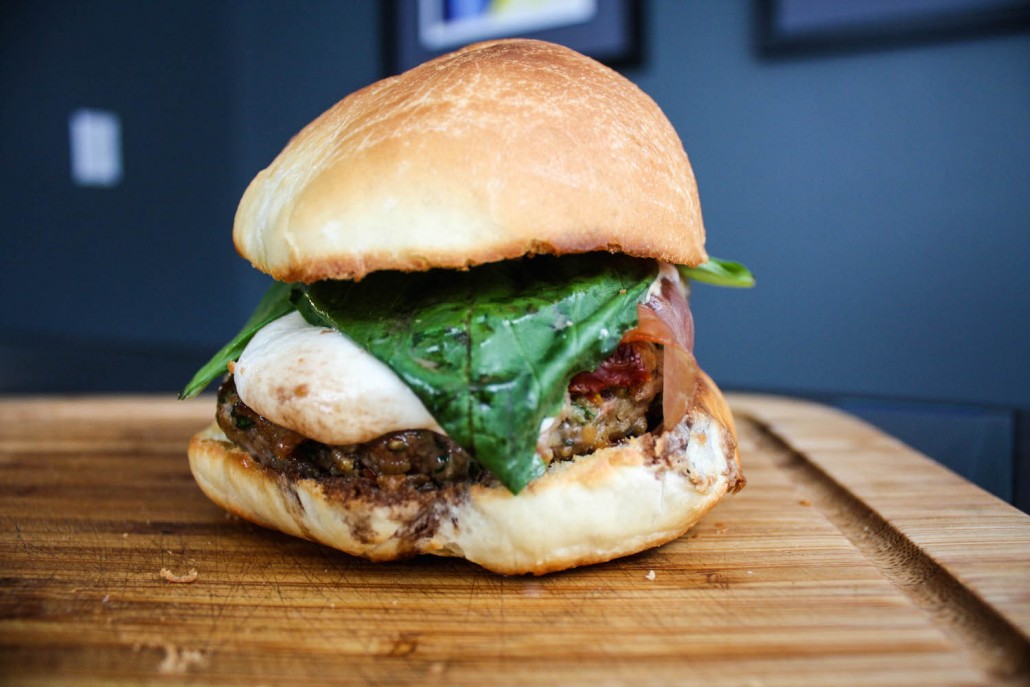 Directions
Start by rehydrating the sun-dried tomatoes in a small bowl with enough white wine just to cover the tomatoes. If necessary, taste the wine to make sure it is (or isn't) what you want to drink with dinner. If you're like Sara, she honestly doesn't know what to do with anything other than a red and likes to taste-test out of sheer curiosity. The tomatoes can sit off to the side while you gather the next ingredients.
In a large bowl, combine the bread crumbs, parsley, egg yolk, milk, Parmesan cheese, salt, and pepper. Add the lamb and sun-dried tomatoes and use your hands to combine just until ingredients are incorporated throughout; do not over mix the meat. Divide the mixture into two burgers and press into patties whose diameters are slightly larger than the buns you're using. The patties shrink slightly as you're cooking them and while it might take some practice to get the right proportions so the patties end up the perfect size for their buns, you definitely don't want your first bite of this burger to be nothing but bread because you made the patty the size of the bun before you cooked it. Once you've determined the appropriate size, place one burger in the center of a slice of prosciutto. Wrap the prosciutto around the edges as best you can and then use a second piece when you inevitably can't reach around the whole patty.
Place a large, heavy skillet over medium heat. Add a drizzle of olive oil and heat for 2 minutes. When the oil is hot, place the lamb burgers in the pan and cook until prosciutto is golden, 6–8 minutes. Flip the burger, and cook an additional 2 minutes. Place a mozzarella slice on each burger and cover with a lid and continue to cook until burger is cooked to your desired doneness and mozzarella is melted. We've found that a total of 6 minutes on each side cooks the meat so it's no longer pink, but leaves the burger perfectly juicy.
While the burgers are cooking, spread butter onto buns and toast until golden brown. I use a toaster oven, but you can also put your buns in a conventional oven, 3 to 4 inches under the broiler. Broil the buns for about 30 seconds, or until they are light golden brown. Watch carefully, as bread goes from lightly toasted to completely burnt quickly.
When the mozzarella is melted and buns are toasted, remove the burgers from the pan and begin to assemble. Top each burger with 2–3 basil leaves, a drizzle of extra virgin olive oil, and balsamic vinegar. Serve immediately.
Notes
Use a full-flavored extra virgin olive oil for this recipe because you'll really get a chance to taste it, especially for drizzling over the buns at the end. My favorite—and a great value—is Trader Joe's Greek Kalamata Extra Virgin Olive Oil.
Mama Francesca's Parmesan, Basil, and Oregano is a great choice for the grated Parmesan in this recipe because the basil in the cheese echoes the leaves you'll put on top.
The buns pictured are homemade, based on Ashley Rodriguez's recipe from her blog, Not Without Salt. The only modifications I made were the use of bread, rather than all-purpose, flour, and 2 tablespoons of butter brushed over the top rather than one.
I cooked my burgers for 6 minutes on each side, which leaves the burgers completely cooked through and not pink, but still remaining moist. That said, cook your burgers to whatever level of doneness you prefer.