In seventh grade, the last of my baby teeth were extracted. There I was, thirteen years old, with three baby teeth still stuck up there. They just weren't ready to come down. Maybe if I'd taken that as an omen, it wouldn't have taken me so long to figure it out as a young adult and I'd've been less miserable. But as it was, I spent a good part of my life trying to catch up. I tried to dress like the other girls in middle school, never quite grasping what was popular and being just a little bit behind. I didn't like boys until I was in high school. In fact, I didn't really care that they existed at all, but I tried talking to my friends about them as if I did. I didn't learn to drive until my college career was nearly over and constantly felt ashamed. With no idea as to what I wanted to do for the rest of my life, I chose a college I disliked and changed college major three times, finally settling on one that was completely wrong for me. For years I tried my best to be ready when they, whoever "they" were anyway, said I ought to be. And I failed. Epically.
I don't like admitting those things. I was often in upper-level classes during school and I'm gifted in very visible ways. It's difficult to expose my weaknesses when people assume I have my life together. But there it is. Trying new things doesn't come easily to me and I'm a person who needs to stay for a while in one new interest or life stage before moving on to the next thing. My timeline doesn't match up to how the world says I should do it and that's okay.
I still struggle with judging my own life against others', but I'm getting better. It can be tempting to make a list of all the things I haven't done yet and match it against what I think my coworkers, or family, or friends are doing, but as I get older, I find that's really not productive. In fact, sometimes it drives me to dig my heels in deeper and move even more slowly. I took a solo trip to Scotland last year to research my family history and sure, it was to an English-speaking country but it was a big step for me. For someone who doesn't love to drive, spending a week crisscrossing the countryside on the "wrong" side of the road is quite the challenge! Other people may have done the same thing during their second year of college but my trip came just when I needed it to.
I may not be married yet, or own my first house, or have gone to graduate school, or have kids, but I'll get there in the time that's right for me.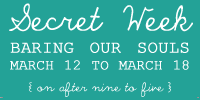 Special thanks to Ashley from After Nine to Five for her encouragement to participate in Secret Week. While my secret may not be quite as serious as others', this draft had been waiting to be posted for several months and this was just the impetus I needed to share it.