Sara and I moved into our rental apartment this April after she made a quick decision to return from seven months living and working in China. It was a wonderful reunion, but our timeline to find an appropriate apartment was incredibly short—just a few weeks. Our options were limited as we have pets and that alone ruled out many apartment complexes in the area where we wanted to live. We pulled together a short list of places to visit and were pretty sure, even before viewing any of the places, that we'd made a decision about which would be best. …and we were completely wrong.
The apartment we moved into was a long shot, in an area of town a bit more unfamiliar to us and comprised mostly of small, 1-story homes, not apartments. Still, we put it last on our list and decided to see it before we finished up our day. We walked through the door and immediately knew that we wanted to lease it. It was one of just a few available and backed up over a gorgeous pond and stand of trees. Compared to the complexes we'd seen with lots of close-by neighbors and overlooking busy highways, this was incredible. Plus, it was completely within our price range.
The apartment we walked into in April looked like this. It was completely white and stark but we knew it had a lot of potential.
This was the first time either of us were able to really decorate a living space that was ours. We've spent three months moving our things in, painting, and decorating, carefully working on generating our style. And you know what? I think we've nailed it: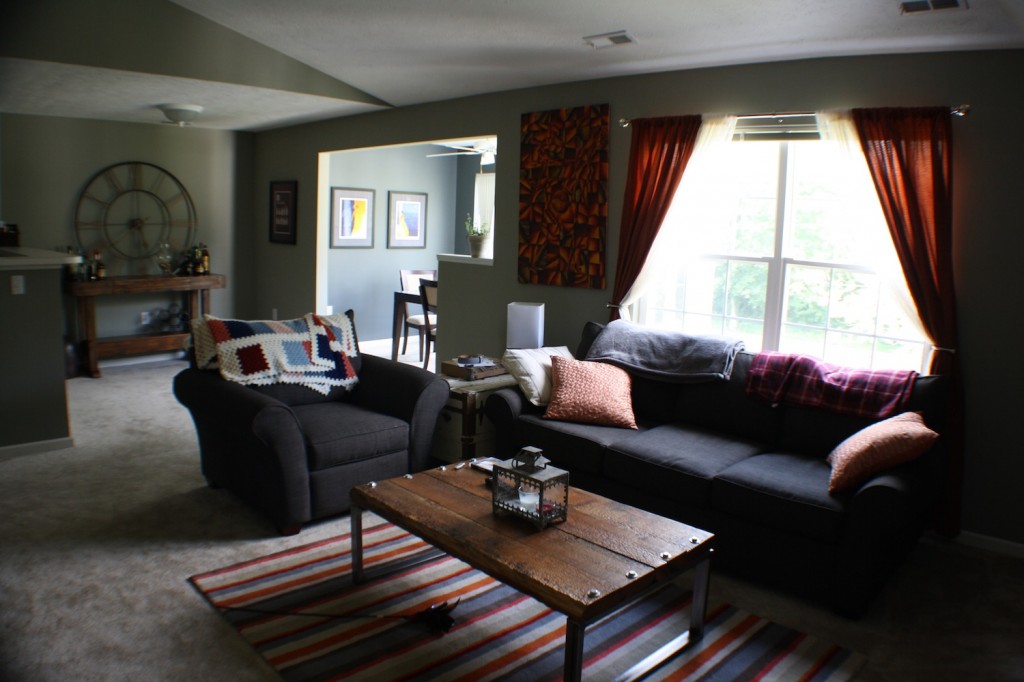 We drew the color palette for the living and dining area from the afghan tossed over the armchair in the first picture. My grandmother crocheted it and the rusts and charcoal colors allowed us to span both warm and cool colors in our space. Some of my favorite elements of the room are the huge clock over the bar and the coffee table you see in the foreground which was custom-built for us from floorboards from an 1870s farmhouse. The painting beside the window was brought to me after my sister lived in Cameroon and in fact, most of the artwork in our house has very significant sentimental or locational value. The paint colors, the grey of which looks much more green in this picture, are both America's Heritage shades from Sherwin Williams. We wanted to draw from industrial and historical sources as much as we could without making the space seem too much like a stuffy antique store and not at all suited for two twenty-somethings.
We still have a lot to do in the office and bedroom—not pictured here to save you from the fact that they still look a lot like the "before" images—but I'm sure I'll give you a tour and show you around there when we've got those finished too.
So, what do you think? How does this compare to your style?