But now the supper crowns their simple board
The halesome parritch, chief of Scotia's food

—Robert Burns, The Cotter's Saturday Night
If you've known me for any length of time at all, it will come as no surprise to you that of all the things I brought back from my trip to Scotland, one of my favorites is a penchant for porridge (oatmeal) on cold mornings. I've posted my recipe online before, but it's worth doing again as we begin autumn.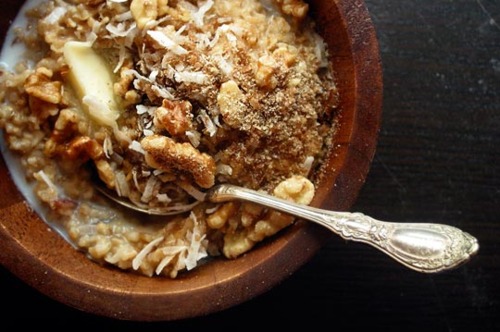 Here's the recipe I use, but you can certainly modify it to your own taste. This makes about three servings; double it if you want to have enough for a whole week. Start this the night before so it's ready for breakfast in the morning.
Ingredients
3/4 cup steel cut oats (Quaker, like these, are totally fine)
1 tablespoon butter or olive oil
3 cups water
or 2 cups water and 1 cup milk
a large pinch of coarse salt
a splash of vanilla extract
Directions
Pour the oats into a pan with the butter or olive oil and fry for two minutes or until they start to smell a little toasted. For creamier oats, use the milk/water combo, or for a drier consistency, stick with just water. Add three cups of liquid, whichever you choose, salt and vanilla to the pan and bring to a rolling boil. Cook for 1 minute, remove from heat and cover. Leave overnight.
In the morning, uncover the pan and cook for 10 minutes or until the consistency is as you like it. Dress with dried fruit, brown sugar or honey.
This oatmeal reheats very well, so put any extras in the refrigerator and microwave henceforth. Add a little milk if the oats are too thick upon reheat.
(Photo credit: My Edible Advice)